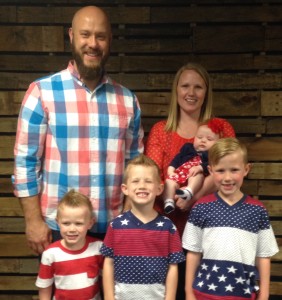 Pastor David is an everyday guy with a wife and four kids.  He and Kami love raising their tribe of three boys with biblical names like Judah, Gideon, and Silas, and a girl named Moriah.  Once you use one name from the Bible, you have to name them all that way! Pastor has a passion for theology and loves to challenge your beliefs and reveal truth in the word of God.  He has his Masters in Theology from Christian Life School of Theology in Columbus, GA.   Once you encounter him in a pulpit, you can't help but catch his passion for the word and then fall in love with the stories behind the stories.  Or as he calls it – the backstory.
He is also a man just like you with big dreams.  In July 2007, he rallied his church and hometown community to set a Guinness World Record by creating the World's Largest Ketchup Packet.  Participants nabbed the record by dumping over 400 bottles of the red stuff into the waiting packet.
He will fight you for a chicken wing at any party.  In 2013, surrounded by friends and family, he took on the Ghost Chili Wing Contest at St. Louis Wing Co.  He has the picture and T-shirt to prove it, also putting a check by one of his bucket lists.
He enjoys traveling abroad and across the country, preaching and facilitating spiritual discussions with congregations, conferences, youth groups, and student ministries. Pastor David is merely walking the walk God created him for.  He desires to help people take their next step in a growing relationship with Jesus Christ. His first book is still in the works, and his mind keeps him up at night, formulating and directing the DVD he plans to produce one day that will take you on a journey through the Bible.